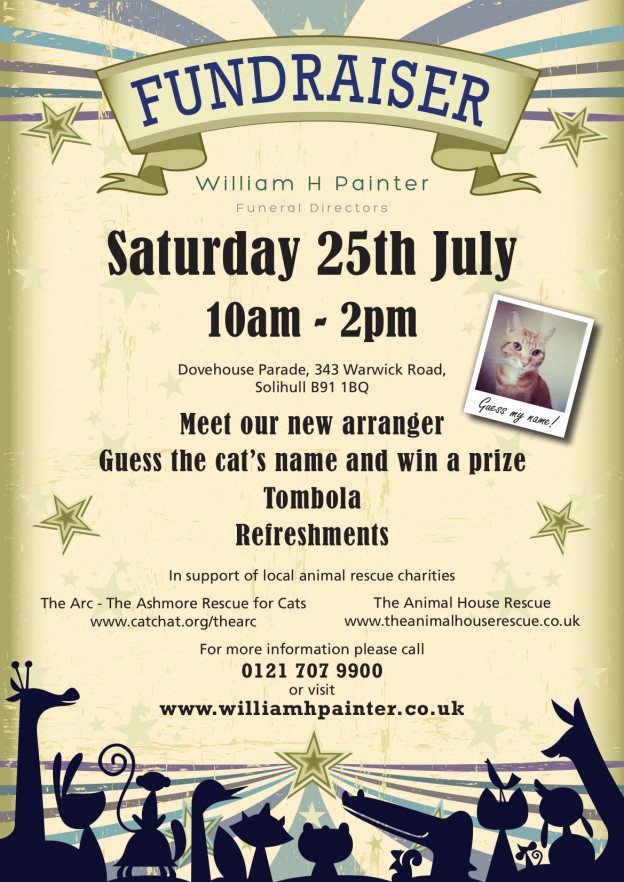 On Saturday 25th July, William H. Painter's Dovehouse Parade branch held a fundraising day in aid of 2 local animal rescue centres. There were activities and competitions throughout the day, thank you to everyone who came along and helped support two worthy causes in our area.
Activities included;
Guess the cats name competition
Tombola
Refreshments
Face painting
Meet one of the Animal House rescue dogs!
Charities involved;(1) The Arc- The Ashmore Rescue for Cats
Mobile: 07782 402188 – Email: sallythearc@hotmail.co.uk
The ARC Facebook Page
A small rescue facility for cats and kittens in need based in Wolverhampton, re-homing throughout the UK. All cats (and kittens of 12 weeks) are neutered prior to re-homing, so none can go on to reproduce. Home checks are carried out for all potential adopters, and if successful then viewing can take place. Kittens are 6 weeks old before they meet any members of the public.
(2) The Animal House Rescue, 4 Kintore Croft, Bartley Green, Birmingham B32 4JJ Tel:(0121) 475 8729
The Animal House Rescue Facebook page
A small Birmingham based rescue, which takes in unwanted, abused and abandoned animals. All the animals are treated for fleas, ticks, mites and worms, they also have a full veterinary 'MOT', and are neutered, if over 6 months, and inoculated before going to their new homes.
The Animal House doesn't use kennels instead placing animals in foster homes, which enable them to see the animals behaviour in a home environment, then any problems can be dealt with and they can be re-homed to the most appropriate place