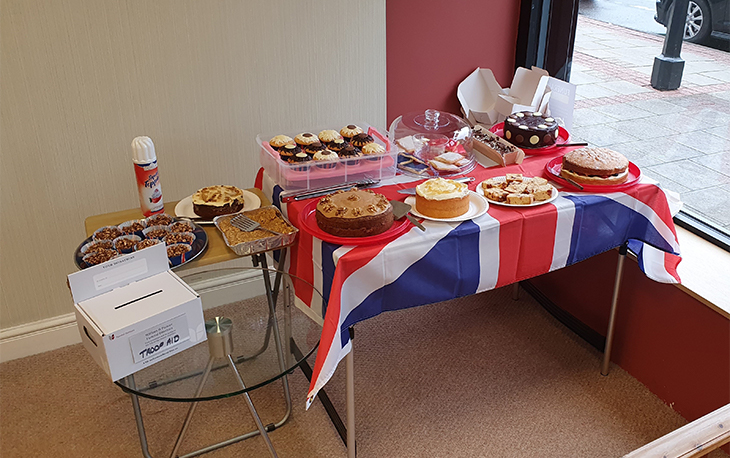 Emma Welch, a Funeral Arranger at William H Painter in Birmingham, organised a bake sale on Friday the 25th of June. This was the day before Armed Forces Day and was to raise funds for Troop Aid, who create grab bags for wounded servicemen and women. The bake sale ran between 10am and 4pm and was held at Emma's branch, William H Painter, Solihull.
Emma has a personal attachment to this initiative as she has a lot of respect for our military and has already worked with Troop Aid in the past. William H Painter had previously hosted coffee mornings for the charity before Covid. This time Emma went for a bake sale as it was easier to control numbers and clean and implement social distancing rules.
Emma organised this event by sending out invites to all her key contacts and advertised in the window to make people aware.
The bake sale consisted of 15 different cake choices with people dropping by to buy a cake and take it away. Most of the cakes were gone by the end of the day! Emma baked most of the cakes herself with the help from friend Pam at Troop Aid.
Emma said: "I hope the bake sale raised both money and awareness for a charity who continues to do amazing work looking after our injured troops"
Emma and her team at William H Painter are continuing to get involved supporting Macmillan Cancer Support next with another bake sale on the 23rd of September. As well, as the continued support for Troop Aid by donating clothing for the grab bags.
William H Painter raised an impressive £176 for Troop Aid over the course of the day!
If you would like to continue to donate, please follow this link to the website:
https://uk.virginmoneygiving.com/donation-web/charity?charityId=1001536&frequencyType=M&utm_source=extbtn&utm_campaign=donatebtn