There are many things to think about when arranging a funeral wake. One element that should not be overlooked is the food. Providing friends and family something to eat at the funeral wake while they catch up with one another is customary. Read this guide to funeral wake food ideas to help you plan a fitting spread.
Before you start to plan your menu, here are some things to consider.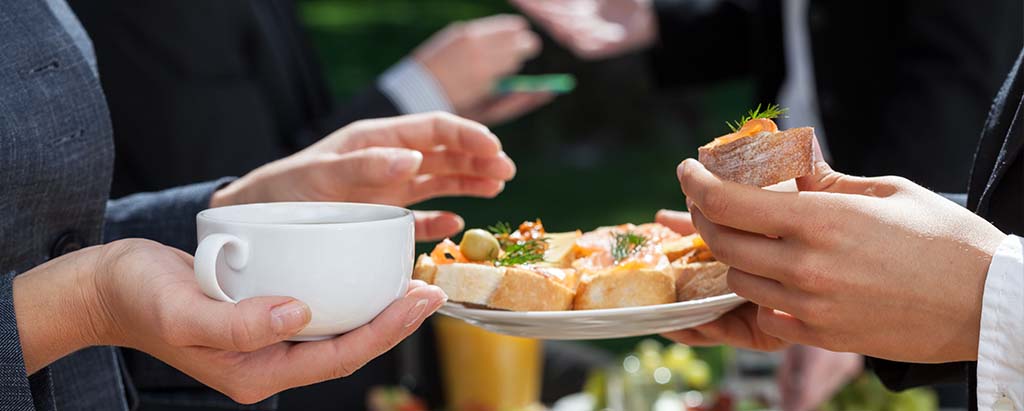 The location of the funeral reception
The wake food you choose will likely be influenced by the location of the funeral service and wake. If you're considering hosting the wake at someone's home, then one pot meals are an option. Depending on the size and layout of your space, a finger food buffet may be appropriate.
However, if you're holding the wake in a particular venue, such as a hotel, there may be rules around using in-house catering services. The teams may have advice on catering for a funeral wake and should be happy to talk to you about any specific requests.
The number of people attending the funeral wake
Whether you're catering for a large group or a smaller circle, there are options to fit every crowd. Food that can be made in bulk, such as one pot meals, tray bakes, and sandwiches, will suit large crowds, whereas the menu can be more flexible for smaller groups. Afternoon tea or selections of salads are good options for food to serve to a more intimate gathering of friends and family.
The budget you have in mind
Another thing to think about when considering foods for a wake is how much you'd like to spend. Decide on your budget in advance and work from there. Also, check whether your loved one has set money aside for the funeral wake food. Remember; although catering the funeral wake yourself may be cheaper than using a catering company, enlisting the help of professionals reduce stress on the day.
Who will prepare the food?
If you have decided to take on the catering yourself, friends and family may be able to help. This is especially needed when preparing food for a larger group. When you're grieving, focussing on simple and repetitive tasks like food prep can be helpful; try to avoid putting too much pressure on yourself to achieve the perfect spread – planning a funeral can be emotionally difficult after all.
Dietary requirements of your guests
One thing to consider is that there are options for everyone attending. Remember that vegetarian and vegan diets are increasingly common, so delicious meat-free options are sure to be popular choices with everyone in attendance. Catering companies will likely be well versed in delivering options for all dietary requirements as part of their funeral food menu
Funeral wake food ideas:
Think about your space. Are guests going to be seated around tables? Afternoon tea could work well. Hosting in someone's home? Take advantage of the facilities and opt for batch-cooked dishes that can be made in advance.
Finger foods always go down well. Add a variety of colours and textures for a buffet that is memorable as well as satisfying.
Hearty, comforting meals that feed a crowd can be an excellent option for any funeral wake. Think stews, casseroles, pastas and curries that can be scaled up or down and adjusted to fit the tastes of your guests.
Remember, the funeral food menu you choose for the funeral wake can be just as personal as the service itself. Here are a few sample menu ideas for inspiration, but feel free to make them your own.
Menu 1: Afternoon tea
Whether you're opting to use a catering company or going DIY, afternoon tea is a lovely way to share nibbles and memories round a table.
Cheese and cucumber sandwiches
Prawn mayo sandwiches
Coronation chickpea sandwiches
Cream tea
Vegan beetroot and chocolate buns
Menu 2: Finger food buffet
Finger food is a popular choice for every occasion. It allows guests to select a small portion now and again whilst still having time to celebrate the life of your loved one with other guests. Try and add some colourful options to make your buffet stand out.
Veggie sausage rolls
Selection of crudites and dip
Vegan sweet potato katsu sliders
Tabbouleh salad
Egg mayo mini baguettes
Mozzarella sticks
Beetroot and goat cheese mini tacos
Menu 3: Hearty and wholesome
Self-catering at home calls for one-pot meals that can be made in advance. Use biodegradable plates and cutlery to save on washing up.
Chana masala curry
Pilau rice
Spiced aubergine curry
Naan bread
Tomato and onion pickle
Yogurt and cucumber raita