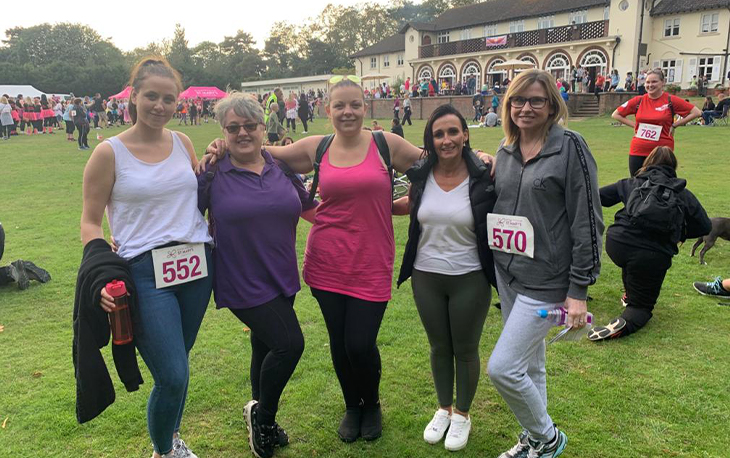 Staff members at William H Painter Funeral Directors took part in a 10k enchanted walk around Selly Oak and Bourneville to raise money for Birmingham St Mary's Hospice.
Staff members who took part included: Fiona Hughes, Katie Hughes, Sharon Calvert and Emma Welch. Past employee Joan Beddows also joined and Ellie Hughes a family member of one of the team.
The walk was a circular route that started and finished at Rowe Heath Pavilion, where refreshments were available. The walk also included acrobats, jugglers, stilt walkers and a choir to keep the walkers entertained. There were between 600-700 people taking part this year.
The walk started off at 6pm, through parks and the streets of Birmingham. There were marshals along the route to support the team along the way. The team at William H Painter were also supported by members of the public cheering and honking as they passed them in their cars.
At 7km mark the team reached the hospice itself where they could have a short break for refreshments and a chance to light a candle in memory of someone special to them.
The walk continued past dark, and the William H Painter team crossed the finish line at approximately 8.15pm.
Emma Welch a Funeral Director at William H Painter said: "we thoroughly enjoyed the evening and we'd be happy to do it again".
To date, William H Painter Funeral Directors have raised £510 and are continuing taking donations.
To donate: https://www.justgiving.com/fundraising/William-H-Painter-Funeral-Directors?utm_source=facebook&utm_medium=fundraising&utm_content=William-H-Painter-Funeral-Directors&utm_campaign=pfp-share&utm_term=1b62e00bd4b140cb87e07e04871ded5d&fbclid=IwAR3tjeLAPukPj06A6VVAaprOq-Qhbdns-RAUaGG3lz_t4TB0RzgFTaRT6Oo